The Life and Love of Kathy Ozer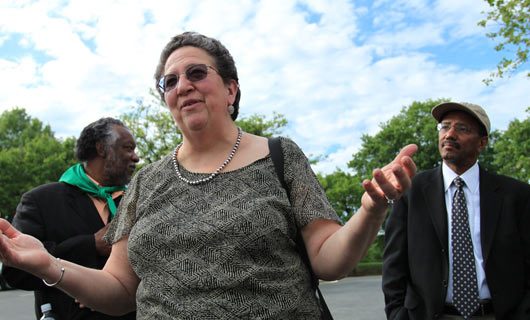 The Life and Love of Kathy Ozer
On January 22, 2017, we lost a leading voice in the work for just food and the fight to keep family farms thriving. Kathy Ozer, Executive Director of the National Family Farm Coalition was a courageous and kind leader, and a mentor to many. See Kathy's Obituary in the Washington Post.
Representative Marcy Kaptur (D-Ohio) said "Kathy fought for decades. I'm the longest-serving woman in Congress, and I have met thousands of people. She remains in the top tier of Americans who have made a difference."
Indeed she was. As written in NFFC's statement on the Life of Kathy Ozer distributed January 28, 2017, "She helped coordinate the historic 1992 demonstration on the steps of the Capitol Building and marched with Black farmers to the front of the USDA to demand that Congress fund the Minority Farmers Rights Act. This act became the first federally funded bill to assist minority farmers, and is now known as Section 2501 of the Farm Bill."
Kathy was an incredible warrior in this work, and as the work continues we must honor and remember her inspiring dedication, perseverance, and generosity. "Although we are mourning Kathy's passing, we want to take time to celebrate her life and work, especially in these times of great transition" said Niaz Dorry, Coordinating Director of NAMA.
We ask that you join us in this celebration of Kathy's life and work on Friday, February 17th from 6-9 pm at The KITCHEN at The Boston oPublic Market for an evening of food, drinks, friends, and the music of SeaFire Kids.

Family and friends will share memories of Kathy. We will honor local food through cooking demonstrations and various dishes of seafood and landfood highlighting the northeast's diverse offerings. All are welcome, those who did not know will get the chance to learn from her work and feel solidarity with all attending. Get your tickets today, all proceeds benefit the National Family Farm Coalition.
NAMA is the host of the event, in partnership with
co-hosts World Farmers, Rural Coalition, Food for Maine's Future, Gloucester Fishermen's Wives Association, Grassroots International, Why Hunger, Food and Water Watch, and Farm Aid.
The night will feature a feast of seafood dishes featuring the catch of New England's community-based fishermen mixed with some landfood from the region's family farmers. You'll enjoy cocktails, live music by the SeaFire Kids, and cooking demonstrations by local c
hefs, while you remember Kathy and scheme about how you will work to continue the fight for those who catch, grow, and raise our food.