Maria Moreira, Executive Director and Co-Founder of World Farmers has been mentoring beginning farmers since 1984. She has created several businesses, her first at age 23. She is a former dairy farmer who developed and operated a value added cheese making business to sustain her family's dairy operation during its twenty-five year existence. She directed the marketing for the Ethnic Crops Program and the Beginning Farmer program at UMass from 2002 to 2012 and was instrumental in accessing USDA programs "Know Your Farmer Know Your Food" high tunnel pilot program for socially disadvantaged farmers in MA. Maria served as FSA County Committee Advisor for nine years, has been a member of the USDA Beginning Farmers & Ranchers Advisory Committee, a member of the Massachusetts Farm Bureau since 1985, a 4-H Sponsor, a Board Member of NIFI, a Board Member of Rural Coalition, a member of NSAC, a member of the Boston Collaborative for Food and Fitness, and a Steering Committee member for the Worcester Food Hub. Maria has worked with local farmers to access new ethnic marketing opportunities, resulting in over five million dollars of ethnic produce sold over the past 12 years. She lives with her husband at the family farm in Lancaster Massachusetts.
Jessy Gill, Program Director, Jessy works closely with the farmers at Flats Mentor Farm to develop and refine all programs and services to fit individual needs as well as support farmers in pursuing new opportunities. Jessy leads our advocacy efforts, manages grants, and coordinates organizational partnerships. Jessy grew up on a family farm in upstate New York, and received her B.A. in Anthropology-Environmental Studies with a minor in African Studies from St. Lawrence University. Prior to joining World Farmers, Jessy worked with a local NGO in the Far North Marsabit region in Kenya, lived and worked on a farm in the Green Mountains of Vermont, and worked on federal, state, and local policy and movement building efforts at the Community Food and Justice Coalition in Oakland, CA.
Donna Kennedy, Marketing and Public Affairs Director. Prior to joining World Farmers in 2017, Donna was a food broker and distributor to independent wholesalers, grocers, restaurants, and schools. She serves on food hub steering committees, non-profit boards and holds membership within several trade organizations. She is a USDA GAP/GHP Internal Inspector and a Primus 5 Step Trainer. Donna's work with National Grocers Association was instrumental in her ability to be a leader on food policy at the local, state and federal level.
Donna's work has been based around building collaboration among business owners, community leaders and farmers. She understands the importance of having a seat at the table and being informed on important issues. She wants to see communities throughout the US safer, healthier, and in large supply of farm fresh food, now and for future generations. With her help healthy fresh food can reach markets year round while packed and labeled for easy traceability our communities desire and deserve.
Delia Tallent, International Operations Coordinator, holds a B.S. in Business Administration from the University of Massachusetts Lowell. Delia has experience in both private and public sector business; including relationship marketing for a fortune 500 company, Personnel Systems management for the United States Air Force, and administrative support for the Cheyenne VA Medical Center. The daughter of immigrants, she understands the challenges facing immigrants trying to adapt to a new culture. She has built relationships with the farmers based on a foundation of trust and respect. She enjoys assisting immigrants and refugees farmers with building productive lives through sustainable farming.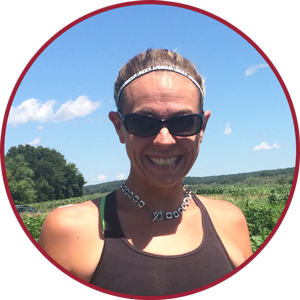 Morgan Healey, Communications Coordinator and Video Production Manager, completed a double major degree in computer graphic design and web design. During this time she designed and developed a brochure for the Ethnic Crops program with UMass Amherst Agriculture Department. Prior to joining World Farmers, Morgan was employed for 5 years at the Holden Landmark Cooperation, later expanding as Worcester Magazines Graphic Online Designer. Morgan also has experience as a freelance Designer. Additional expertise includes developing campaign materials for local city councilor, logo design and company branding for CrossFIT EXP and volunteering her time for a local school to raise money for a local animal shelter. At World Farmers, our materials focus on small business marketing, branding, identity design, and marketing.
Immaculate Nyaigoti, Outreach Specialist, Immaculate is a native of Kenya and has lived in the United States since 2001. She is currently pursuing a Bachelors of Science in Political Science degree at UMass Amherst. As a first generation immigrant, daughter of farmers, and someone who has been in the struggle for food justice all her life, she is taking steps towards finding her role in this fight against hunger and for food justice.
Alyssa Valcourt, Program Development, graduated from Bridgewater State University with a B.A. in Global Sociology with a Minor in African Studies.  During her last semester, she interned with an immigration and refugee resettlement agency in Arlington, Virginia. She is currently a graduate student at The University of Rhode Island for a Masters in Library and Information Studies.  She has been at World Farmers in the summer since 2015. During the school year, Alyssa is an Instructional Assistant Librarian at Nashoba Regional High School. Prior to World Farmers, Alyssa was a team leader in AmeriCorps NCCC, where she led a group of ten individuals around the MidWest, serving the local community through various service projects.  Alyssa enjoys being outside, cooking, researching, and quality time with her cats.